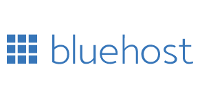 Websites created with the help of Bluehost can be launched into the online world within minutes. It is a well-known web host that millions of people rely on to host their online projects, start businesses and build something completely new.
Best web host to create a new website
It's easy to use, even for first-time users, and offers great value for money. Bluehost is an excellent choice for those who are just starting to create and maintain a website. This is because no advanced web administration or programming skills are required when you set up your website with Bluehost. To add to the appeal, Bluehost has partnered with WordPress and made sure that WordPress installation is as simple as possible.
Comprehensive Bluehost review
Numerous pricing options and benefits
Bluehost has numerous pricing options, all of which are pretty straightforward. If after reading the quotes you still don't know which one is most beneficial for you, you can contact Bluehost for a free consultation.
When you sign up, you get a free domain name and hosting can cost as little as about $3 per month. Bluehost also offers a number of tools to help you get your website up and running quickly.
In this article, you'll learn more about what you get and why I think Bluehost offers the best value and why Bluehost has also great benefits.
Shared hosting services for beginner
Bluehost offers shared hosting services at a great price for beginners. If you are creating a website for the first time, Bluehost is a safe and affordable option to consider. Also, as mentioned earlier, you get a free domain name when you sign up. This is a fantastic feature that sets it apart from other cheap solutions, along with its customer service options and reasonable additional hosting tiers that further differentiate it from the competition.
Bluehost is an excellent choice for those who are just starting with their first or second website. If you are a blogger who is just starting out in his field, Bluehost will let you easily get started without having to worry about the technical aspects of running a website.
Free domain and free SSL
One year free domain registration: one of the most enticing benefits of Bluehost is the free domain name that you can use for a whole year after signing up. This way, you don't have to turn to a third-party domain provider or spend more money at the beginning of your website development process.
Free SSL Certificate: An SSL certificate, also known as a Secure Sockets Layer certificate, ensures that your website's identity is authenticated while encrypting important website information. An SSL certificate is available for download here. In other words, it is an absolute must for any website you create or maintain. Bluehost, on the other hand, offers free SSL certificate installation.
Step-by-step setup and great support
With Bluehost's straightforward and step-by-step setup, you can have your website up and running in no time. If you have any difficulties, you can contact support via live chat and the Bluehost website.
Customer support is available 24 hours a day, seven days a week. Not every company can claim to offer 24/7 customer support, especially at such a low entry-level price. Bluehost's customer support is available from the launch of your website, and whenever you need extra help fixing inevitable website errors.
Bluehost not only offers top-notch customer service and an intuitive control panel, but it also ensures that your learning curve is kept to a minimum and that your website is visible to the world with a high uptime.
Open