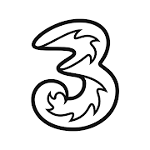 Three is reliable, solid, and reasonably priced. Three isn't the cheapest mobile network, but neither are the other major providers for the most part. There's unlimited mobile data on some plans, as well as nice extras like video and audio streaming, and passable roaming benefits abroad.
Benefits of the mobile app
From checking data usage to bills, features for topping up credit, and deciding when it's time for a contract upgrade, Three's app has a few features here.
The app makes it easy to manage your account on the go and keep an eye on everything. With the help of biometric data (fingerprint or facial recognition), one can log in quickly and securely.
Features
Balance: Keep track of how much you've already spent this month and how much credit is still available.
View bills: You can view older bills from up to a year ago.
Recharge: Check and top up credit quickly and easily.
Buy add-ons: Add Mahr data volume or other additional features quickly.
Upgrade: Quickly change to a better tariff with more power.
Live chat: use the live chat feature in the app to contact Three.
Conclusion
Three is one of the largest mobile providers in the UK. As a user, you benefit from very high network coverage, low rates, and a modern app.
Open