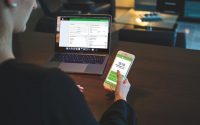 Employers who want to record the working hours of their employees are oriented towards time recording. Here, employees use timesheets or feed the necessary data into special systems. However, this requires certain hardware and software solutions to be able to operate the time recording systems. All in all, however, these requirements provide every company with the possibilities to control the working behaviour of their employees and to create payrolls.
Why is time recording important?
Especially in companies where many hundreds or even thousands of people are crucial for success, an overview of all activities is necessary. This includes not only work steps or order completion, but also the recording of working hours. This, in turn, is essential for controlling employees or supporting payroll accounting. At the same time, it allows for better planning of various tasks.
The recording of working hours creates transparency, relieves employees and allows for the smooth completion of various work processes, even when numerous employees are sick or on holiday. In order to optimise staff deployment, to facilitate the daily work routine and to ensure the success of a company, working time recording is necessary and makes sense.
How do the different models of time recording work?
For numerous employers worldwide, one point in particular is important in the area of employees: time and attendance. After all, a company can only function smoothly with active employees. In order to check employee morale, there are now various forms of time recording.
Time sheets
This form of time recording is reliable and has been used for many decades. All employees enter their working hours on special forms provided by the company. At certain intervals, employees hand in the completed forms to the payroll department or supervisors so that they can be used for time recording and payroll accounting.
This method is reliable, but no longer up to date. Those who do not fill out the sheets continuously cannot properly record work steps and times. In addition, it is not uncommon for a confusing paper chaos to arise, which is anything but sustainable or environmentally friendly.
Hardware solutions
Although timesheets have been around for a long time, they were sometimes not kept carefully or conscientiously enough. Therefore, they were often replaced by time cards that recorded exactly when employees started and finished work. However, punch clocks have also become a thing of the past. Nowadays, modern companies rely on terminals that are connected to special software. Employees can use RFID transponders or chip cards to check in when they arrive at the workplace and check out after work.
Thanks to these terminals, an error-free and transparent transmission of the working hours of all employees is possible. Companies can thus quickly and clearly see at what times employees were working in the company. This measure supports administration and is also time-saving, which in turn has an effect on the effectiveness of payroll accounting. However, this method of recording working time is less useful for employees who work in a home office or are often on business trips. Moreover, transponders or chip cards can get lost and sometimes have to be replaced in a cumbersome manner.
Software-based solutions
A successful alternative to hardware-oriented solutions is web-based working time recording. Employees can easily enter their working times into the designated systems via PC or app. At the same time, it is also possible for them to make enquiries about overtime or minus hours. Thanks to this possibility, even employees who are always working in the home office, field service or on business trips can obtain information about absences, working hours or holidays. At the same time, various systems offer the premise of submitting leave requests, approving working hours or submitting them later. This saves time and is a relief for many companies.
However, certain systems are necessary for this mobile time recording solution to be applicable. Employees must also have a computer or other mobile devices to be able to insert the working hours.