Mozilla's new browser "Firefox Quantum" is finally available. The software was not only visually redesigned, but many improvements were also made. The developers expect the biggest release so far to increase their market share in favor of Firefox. The browser code has been reworked to 75 percent.
A new design
First of all, the new logo stands out: it complies with the current guidelines of logo design. With the Photon design system, Mozilla brings more consistency into its product and the link to the use of different operating systems is also much more clearly visible.
The Tab design also received a facelift. For Mac OS X, the Vibrancy effect is used by default and for Windows, the configured accent color. Another change is the minimum tab width. Previously it was 100 pixels and could not be changed. With Firefox Quantum it is 76 pixels and can be set via "about: config".
The developers have also improved the design of internal browser pages: The add-on manager has been reworked and the error page shines in a new light. The developers use exquisite illustrations to loosen up their design.
New and improved features
Basically, all features contain descriptions of how they can be activated, deactivated or modified if necessary.
For the first time Firefox is optimized for touch devices. By default, the navigation bar and tabs appear enlarged in touch mode and are easier to use with your fingers. However, the user can reverse this display, which means that control elements are reduced in size and offer more space for displaying web pages. This function is particularly useful for small screens. This function is called compact mode.
The internal page for the most-visited pages now allows direct changes by the user and no longer takes place via detours. The Pocket service, which Mozilla took over at the beginning of 2017, is also used. However, only users from Germany, Canada and the USA are currently enjoying this feature.
The main menu has been completely reworked and is no longer modifiable by the user with Firefox Quantum. For this purpose, an overflow menu is available to the left of the main menu, which can be permanently displayed as user-defined and in which functions or extensions can be placed.
Another new feature is the possibility to import chronicles and bookmarks from other browsers. This feature is especially useful for users who don't want to do without their familiar pages.
Extensions only as WebExtensions
For extensions the developers rely on WebExtensions. A step in the right direction. The catalogue of available extensions shrank from over 20,000 to about 6,000.
Greater safety
Mozilla has also made considerable improvements in the area of security. Firefox Quantum now has a working rights distribution. The browser has permission management that controls camera, microphone, location access and notifications. Accessibility tools such as magnifiers or screen readers are also controlled here.
Existing security gaps were largely closed and by using WebExtensions all extensions run in a separate process. Under UNIX/Linux systems, read and write permissions have been tightened. The advantage: If new security gaps occur, the probability of endangering the entire system decreases.
Firefox Quantum is the first browser on the market to use verified encryption.
For these reasons alone, an update to Firefox Quantum is highly recommended. The browser's code is not only cryptographically verified, but also 20 percent faster than its predecessors.
For the reasons mentioned above alone, an update to Firefox Quantum is highly recommended.
Better performance
In addition to revising the browser in terms of design and features, the developers are also keen to improve performance. A long overdue decision. Due to its higher speed Google Chrome replaced the Firefox browser more and more. Even dyed-in-the-wool Firefox users in Germany increasingly switched to Chrome. Mozilla now wants to change that: according to the developers, Firefox Quantum requires 30 percent less cache than Chrome and uses less memory. A further improvement is an own CSS engine, which significantly reduces the RAM requirements of the browser. Another big plus: Firefox Quantum is very stable in contrast to its predecessors.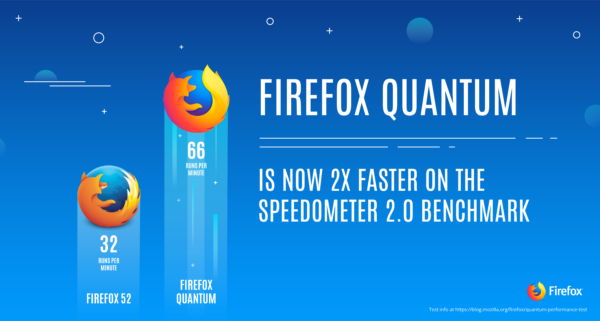 The speed was also tinkered with: Firefox Quantum is significantly faster than its predecessors. Depending on the operating system, the browser may be able to keep up with Chrome, but there is still room for improvement. This is especially true for UNIX/Linux environments. But: If several CPU cores are available, Firefox Quantum achieves excellent performance and can beat Chrome in terms of speed.
A step in the right direction
Mozilla makes a very important contribution to software development in the area of open source and free software with this very much improved and revised browser. Firefox Quantum convinces by:
appealing design
high security
high stability
very good performance
Firefox can be downloaded here as usual and the update to the latest version is done automatically after installation.